When I thought of this topic for Field Trip Friday, I figured it would be a no brainer to come up with a meal from my travels that was my all time favorite. Surely, some dish stands out among the throngs as superior in every way. But I'll be honest with you, I couldn't pinpoint one exact dish. So I'm going to go on a little around the world trip for my meal, taking a course from here and there.
First Course: Costa Rica - Ceviche
My entire family: parents, sister, aunts, uncles, cousins, and grandparents visited Costa Rica for my grandparents' 50th wedding anniversary when I was 22. It's where they went for their honeymoon and they wanted to spend their 50th with all of their loved ones in a spot that held such fond memories. This trip is especially poignant for me because it was one of the last times we spent with my grandmother before Alzheimer's took her away from us.
The resort we stayed in was unbelievably gorgeous. A short distance from San Juan, it was surrounded by tropical rain forests. It was an oasis. In this resort were a couple of restaurants, one more casual for breakfast and lunch and one more fancy for dinner. We ate each morning in the more casual one, where they had a delicious buffet, and among the items on the spread was ceviche. Ceviche is a dish prepared by marinating seafood, in this case shrimp, in lime juice and then combining it with tomato, onions, peppers and cilantro. It is absolutely divine and I do believe I ate my weight in it during my stay. It is not a complicated dish, and I have had it since, but when I think of ceviche, I think of that trip. It. Was. Delicious.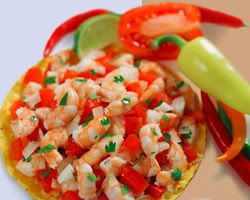 Second Course: Colorado - Schnitzel
When I was a kid, we lived in Heidelburg, Germany for a year. Spending an extended time in a foreign country as a kid is an eye-opening experience. I was introduced to people and food that I would never have encountered otherwise. I wish I could say that I remember all of the German I learned while I was there, but the truth is that more than 20 years have passed and other than a few key phrases and numbers, I don't. I do hope to return there someday, if nothing else to partake of the hearty German food, which I fell in love with while we were there.
But there was one dish that found its way particularly into my heart: schnitzel.
Schnitzel
is thinly pounded veal that is breaded and fried. Again, this is not a terribly complicated dish, but one that is not found in many American restaurants. So imagine my surprise and delight when on a family ski vacation to Colorado, we stopped off in a small hotel/restaurant that had a primarily German menu, including schnitzel. We stopped at the same place several times over the years, and every time I got the schnitzel. I tried to find a picture that showed it in a slightly more enticing light, but this photo is EXACTLY how I like it. Don't waste time on anything extraneous on the plate, just throw down some meat and fries and be done with it. Just like the Germans, straightforward and fattening. (Okay, Germans aren't fattening, well, maybe they are, I've never
actually
tried to eat a German. But they are very straight to business folks. You get my point.)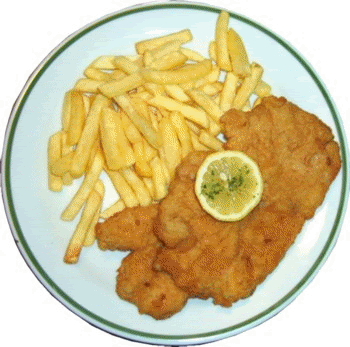 Third Course: Scotland - Sticky Toffee Pudding
After too many years of reading trashy romance novels that took place in Scotland, my best friend and I decided to take a trip to the motherland. We didn't meet any lairds, but we saw plenty of lochs, and we ate. A lot.
On one of our day trips jaunting about the Scottish countryside, we stopped at a tiny rustic inn on the side of the road. There was nothing for kilometers and kilometers in either direction. It looked like it had been there forever and if the reception we got was any indication, they didn't get a lot of tourists and were not super excited about the two American chicks that came barreling into their establishment. We were not to be deterred, though, and went about enjoying our meal. We ordered typical Scottish inn fare, probably shepherd's pie or something. Frankly, whatever it was was completely overshadowed by the
Sticky Toffee Pudding
we had for dessert. It was chocolatey cake covered with caramel sauce goodness. They served it in a little cast iron skillet . It was divine. One of these days I am going to attempt to make it myself, until then I will savor the memories. Mmmm.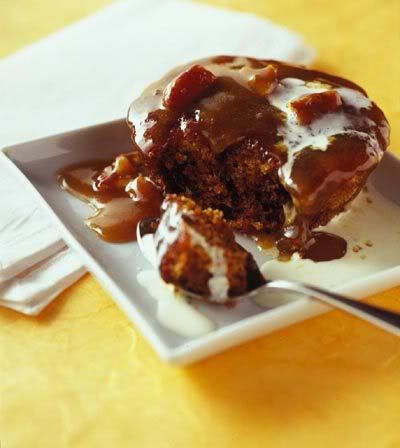 So that's my favorite vacation meal. How about you? Tell us in the comments or link up your Field Trip Friday post!
PS - If I were to actually attempt to eat this very meal, I would probably have the worst case of indigestion. EVER. Not to mention more calories than any one person should consume in a week, let alone one meal. A girl can dream, though.